Sin Den, Hair Salon in Omotesando (Gaienmae), Tokyo
Review of Sin Den
Text by Christal Cheng
Sin Den, in Omotesando, prides itself in doing everything with accuracy, creativity, and to top satisfaction. The salon was founded in 1994 by Dene Sinden – a successful hair and makeup artist now based in London.
A preview of their website will give a quick taste of what this salon is all about. Sin Den will help you maintain that perfect look you're comfortable with; talk you through fresh ideas if you're looking for something new; or style it just how you like it for a special night out. They only use products deemed the best including L'Oreal, Wella, Sebastian, and Redken; importing when they can't find what they want locally. They also offer a range of treatments to help replenish damaged hair or simply maintain health and shine.
Whatever it is you're looking for, the one thing Sin Den truly takes pride in is ensuring that you are satisfied. They strive to deliver top quality service and that means making sure they understand exactly what you want.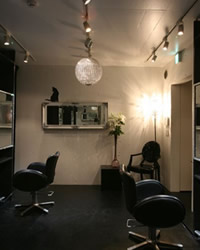 I wasn't entirely sure what to expect as I walked to my appointment on Sunday afternoon. As I'm sure many people have, I've borne my share of traumatizing experiences when it comes to trusting my hair to the hands of a complete stranger. I turned a final corner and found myself at the doorstep of an almost looming, yet striking two-storey building. It was all black but with the unmistakable Sin Den artwork painted on the sides. Walking up the pebbled pathway to the door, it was not how I pictured a hair salon to look. And stepping inside, you notice that unique style continues on through to the interior. The black décor (including black walls) was complimented with paintings and boudoir accents; as well as hair product hanging on the walls. It was a chic little spot I was sitting in.
I met my stylist, Theresa – the latest addition to the Sin Den team which is comprised of stylists from London to Sydney; all top professionals with notable work under their belts including hair and makeup for promotions and tours for the likes of James Blunt, Cold Play, Sting, and Janet Jackson's Dancers.
Theresa was great. She talked me through her suggestions about adding some shape and texture to my hair – desperately in need of a fresh cut and style. She obviously knew what she was doing as far as my hair was concerned. And having settled on what would be best for my hair, I had my shampoo and head massage in a nice private side room. Incidentally it wasn't actually a room at all. Set up to the side with a (black) heavy curtain drawn, lying in their shampoo bed felt very different from the typical factory-line feel during the sometimes awkward head-in-basin step.
After my wash and head massage Theresa went to work, taking her time with absolute care and precision. When she had finished I was looking at a sophisticated cut with a bit more volume and texture, and very importantly the solution to the problem that had plagued me – slight bangs cut just to the right length to mask my pesky baby hairs – the bane of my hair's existence.
When it comes to hair, language can mean the difference between leaving in love with your new do or leaving mortified; mind racing to find ways to hide it for the next 3 weeks. I'm happy to be able to say that I left very pleased with my new cut and quite in the mood to take a stroll down the Ometesando boutiques strip before heading to my dinner engagement.
If you want to make sure your hair is handled by English-speaking professionals who know what they're doing, and care about what it is you're looking for, I'd recommend paying Sin Den a visit.
***** ***** ***** ***** *****
Sin Den (03-3405-4409) is located in Omotesando (Gaienmae) and they Monday to Saturday 10am to 8pm and Sundays from 11am to 7pm