T.G.I. Fridays Shibuya, Casual American Restaurant in Tokyo
Review of T.G.I. Fridays Shibuya
Text by Andrea Beardsley Mori
When looking for a taste of classic American fare, there is no better place than T.G.I. Friday's. The American chain, founded in New York City in 1965, currently has more than 900 restaurants in 60 countries, including 8 locations in Tokyo and Yokohama.
Like their U.S. counterparts, the Japanese T.G.I. Friday's restaurants are easily recognizable thanks to their trademark red-and-white striped awnings. The interiors, too, reflect the American casual dining aesthetic, with brass railings, Tiffany lamps, and an eclectic mix of antiques and memorabilia. American pop music plays in the background, completing the illusion that diners have stepped off the streets of Tokyo and into the eateries of Midtown, USA.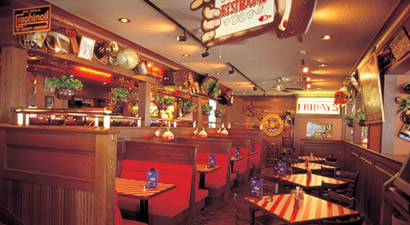 Most importantly, the menu offers a wide array of dishes, all reflecting the American dictum that more is more. Colossal burgers, sizzling steaks, and Tex-Mex "fajita towers" are perfect for diners with big appetites, and their enormous sundaes are offered in meal-sized portions. Impossible to resist appetizers include Loaded Potato Skins and Buffalo Wings, while soups and salads will satisfy customers watching their waist lines.
T.G.I. Friday"s beverages, like its food, are substantial in both size and selection. A large selection of cocktails and blended drinks, both with and without alcohol, and free refills on soft drinks ensure that their customers' thirsts are always quenched.
On a recent Friday, my friend and I decided to fuel up for an afternoon of shopping at T.G.I. Friday's Shibuya restaurant, its first location in Japan. We were greeted enthusiastically in Japanese by the friendly staff before being led to a large booth at the back of the restaurant. The menus and all other signage in the shop were presented in both English and Japanese, and our waiter had no difficulty understanding our English requests.
Overwhelmed by the selection of dishes, we both decided to sample the lunch menu. Reasonably priced, the lunch menu items include a main dish and a bottomless soft drink, and in some cases soup or salad. We both ordered the Bacon Cheeseburger off the lunch menu, but, inspired by the American atmosphere, we each personalized our orders. I asked for a starter salad instead of the Soup of the Day, while my friend paid a 50-yen surcharge for French Onion Soup. Both of our substitutions were met with a "no problem" from our waiter.
Our starter dishes arrived soon after we ordered, followed by our burgers and an ample side of fries. My friend, an American, attested to the authenticity of each dish. The service, too, was authentic. Our food was presented in a timely fashion, with our main dishes arriving just as we polished off our starters. Our drinks were refilled by our attentive server before we had a chance to finish them.
Although we had ogled the desserts during our first glance of the menu, after making our way through the generous portions of the burgers, fries, soup and salad, not to mention two tumblers of soda apiece, we agreed to save the dessert for our next visit. Satisfied with our meals, we stepped out of T.G.I. Friday's and into to the sunny Tokyo afternoon.
***** ***** ***** ***** *****
TGI Friday's (03-5459-3555) is located in Shibuya. They are open throughout the year from 11:30AM to 12AM, Sun, Mon-Thur, holidays, and from 11:30AM to 3AM on Fridays, Saturdays and the days before holidays.