Galopin, French Restaurant in Kichijoji, Tokyo
Galopin, French Restaurant in Kichijoji, Tokyo
Fish and meat dishes are suitable for one person. It takes a while to cook the dishes as they are all freshly made.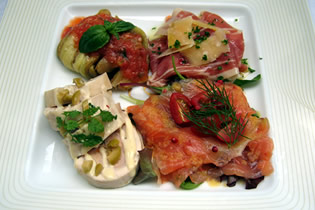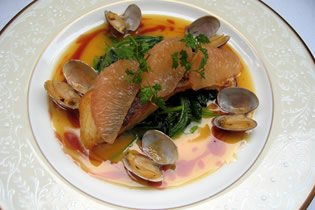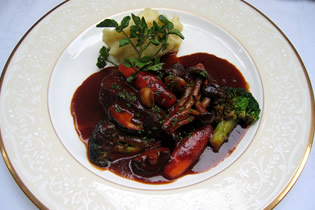 CHEF'S SPECIAL SET MENU
• Selection of hors d'ouevres
• Soup of the day
• Main Dish
* Dishes over 1,280 Yen will require an extra charge equal to the difference.
• Salad
• Dessert
• Coffee
*Everyone in the same group is required to order the set menu if one person does
3,800 Yen/Person
(available from 2 or more people)
APPETIZERS (COLD)
• Assortment of 4 hors d'oeuvre 1400 Yen
• Talamo-salata,
garnished with salmon roe 680 Yen
• Pork Rietto,
garnished with home-made pickles 700 Yen
• Today's fish calpaccio
(using fresh fish from Tsukiji market) 850 Yen
• Marinated assortment of seafood,
with a hint of Sherry 850 Yen
• Beef (fillet) with Tartar Sauce -
comes with garlic toast 880 Yen
APPETIZERS (HOT)
• Potato, mushroom and bacon sauté,
flavoured with foie-gras 800 Yen
• Creamy pumpkin and sweet-potato gratin 800 Yen
• Spicy Ragout of beef and beans
(comes with toast) 750 Yen
• Spicy home-made sausage 350 Yen per sausage
• Shrimp and mushroom gratin inside breadloaf 850 Yen
• Tender spare ribs
seasoned with herbs and mustard 850 Yen
• Escargot and scallops
cooked with mushrooms and garlic butter 950 Yen
• Wild duck breast confit
with potato pie 850 Yen
• Garlic toast (the best in Japan!) 200 Yen per slice
SALADS & CHEESE
• Mixed seasonal salad 900 Yen
• Fully ripened tomato and mozzarella salad 900 Yen
• Onsen egg and bacon Caesar salad 900 Yen
• Assortment of 5 cheeses 1200 Yen
• Single cheeses (from the cheese-board) 400 Yen per piece
• Cheese fondu (grielle, emental, maribo, gouda) 1300 Yen
PASTA & RICE
• Clam and labiate spaghetti (100g) 850 Yen (180g) 1350 Yen
• Uncured ham and bacon carbonara (100g) 980 Yen (180g) 1480 Yen
• Prawn and seafood pescatore (100g) 1280 Yen (180g) 1780 Yen
• Penne gorgonzola (100g) 980 Yen (180g) 1480 Yen
• Italian polchini and cheese risotto (180g) 980 Yen
FISH (MAIN DISH)
• 3 fishes in cream sauce gratin 1280 Yen
• Sautéd salmon and scallops
in tomato and basil sauce 980 Yen
• Oven-roasted sea-bream (red snapper)
in grapefruit sauce 1280 Yen
• Chef's (whole) fish of the day 1280 Yen
• Seafood bouillabaisse 1780 Yen
(with Prawns + 400 Yen)
• Risotto from the bouillabaisse soup + 300 Yen
• Omal prawns (grilled or gratin)
Half 1500 Yen, Full 2800 Yen
MEAT (MAIN DISH)
• Grilled country chicken
in balsamico sauce 980 Yen
• Kagoshima black pork sauté,
with hot vegetables 1280 Yen
• Beef (cheek) cooked in red wine,
with mashed potato 1280 Yen
• Roasted lamb cooked in mustard 1380 Yen
• Fillet steak
with large helping of mushroom sauce 1480 Yen
• Grilled Iberian pork 1980 Yen