Elio Locanda Italiana, Italian Restaurant in Kojimachi, Tokyo
Elio Locanda Italiana, Italian Restaurant in Kojimachi, Tokyo
*Visit the Elio website to view a short list of their exquisite Italian wines
*Great catering and party service.
Lunch course menus are offered at ¥1,600, ¥2,200 and ¥3,800
(reservations from ¥2,200).
Dinner course menus are at ¥5,500, ¥6,500, ¥8,500 and ¥10,000.
At dinner, a ¥600 cover and a 10% service charge apply.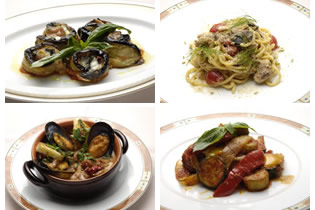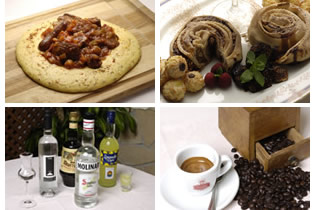 Recommended Course:
If this is your first time or you just want to enjoy time with company, we suggest our basic 5,500 Yen course.
ANTIPASTI / Starter
Chef's mixed appetizer platter of the day – 5 dishes
PASTA / Pasta
A combination of the day's 2 fresh pastas
SECONDI / Main Course
Fish or Meat of the day
DOLCE / Dessert
A combination of the Chef's 2 daily-recommended desserts
COFFEE / TEA
A la Carte
"Antipasti" - Starters
Bruschetta - 650 Yen
Marinated fish of the day - 1,900 Yen
Fish carpaccio of the day - 1,900 Yen
Parma ham plate - 2,000 Yen
Sicilian Caponata - 1,500 Yen
Soup of the day - 700 Yen
"Primi Piatti" – Fresh Pasta and Risotto
Penne in arrabbiata sauce - 1,600 Yen
Spaghetti with "fruit of the sea" - 1,700 Yen
Spinach tagliolini in fresh tomato sauce - 1,700 Yen
Gnocchi - potato dumpling "Sorrentina style" - 1,700 Yen
Risotto with parmiggiano cheese - 1, 900 Yen
Risotto - chef's special - 1, 900 Yen
A la Carte
"Secondi Piatti" – Main dishes
Grilled fish of the day - 2,200 Yen
Grilled Swordfish - 2,500 Yen
Salted and baked Sea Bass – Please inquire
Veal Scaloppine - 2,700 Yen
Sliced beef steak on rucola with parmiggiano - 2,950 Yen
A la Carte
"Dolce e Formaggi" – Desserts & Cheese
Tiramisu - 650 Yen
Panna Cotta - 650 Yen
Homemade Gelato – 650 Yen
Italian Farmhouse Cheeses – Please inquire