Rengedou, Japanese Gift Shop in Kichijoji, Tokyo
Review of Rengedou
Text by Andrea Beardsley Mori
Kichijoji gift shop Rengedou provides traditional Japanese products with a distinctively modern twist. With a selection ranging from mousepads to silk handbags, this small shop is a treasure trove of finds for tourists looking for the perfect souvenir as well as for locals looking for unique expressions of Japanese culture.
Founded in 2001 by Noriko Sato, the shop's name is derived from suiren, the Japanese word for water lily. Like the flower, Rengedou is meant to evoke calm and relaxation in an otherwise chaotic place. Sato decided to open the shop when her aunt mentioned that there was a space available next to her baby clothes shop just off Kichijoji's Nakamichi shopping street. Sato has always enjoyed learning about traditional Japanese crafts and started her business with the hope that her customers would gain a new appreciation for them when visiting her shop.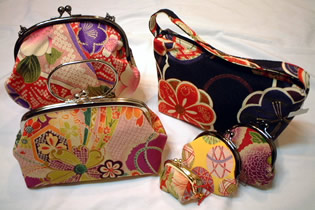 Rengedou began as a women's clothing shop, selling kurume gasuri, clothing made with traditional Japanese fabrics, but Sato soon began adding other items to the shop. Five years later, Rengedou contains an eclectic mix of products too numerous to mention. All of the products are handmade in Japan using both new and old kimono fabric. The most popular items are purses and handbags, which start at a reasonable 2,100 yen. Other items range in price from 315 yen for hairpins to 100,000 yen for a gasuri tapestry crafted by a traditional artisan. Most recently Sato has added items made with kimono fabric encased in hard acrylic, such as hairclips and coasters. In future she plans to introduce more of the leather and fabric products she designs herself under the Rengedou label.
Upon entering the shop, the hustle and bustle of Tokyo immediately slips away. With soft music playing in the background it is easy to get lost in the overwhelming selection of products crowding every corner of the small space. Handbags, belts and even chalk bags hang from the walls and ceiling fixtures, while picture frames, wallets, and cases for mobile phones, glasses, pens, tissues and anything else small and portable cover the tabletops.
Despite being drawn to a small bag made with traditional children's kimono fabric, I decided against adding to my ever-expanding collection of bags. Instead I purchased a new addition to Rengedou's line of products, sheets of kimono fabric with adhesive backing, sold in packs of three. Perfect for covering a sunglasses case, picture frame or PDA, and making a traditional Japanese item with a modern twist of my own.
***** ***** ***** ***** *****
Rengedou (0422-21-2216) is located 5 minute walk from JR and Keio Inokashira Line – Kichijoji Station. They are open 11:30 ~ 19:30 (closed on Tuesdays)