Talk Back Bistro, French Restaurant in Kichijoji, Tokyo
Review of Talk Back Bistro
Text by Andrea Beardsley Mori
Located on Kichijoji's eclectic Nakamichi shopping street, Talk Back Bistro has been a favorite of local diners for years. Founder Masayuki Sugai started the original Talk Back restaurant in 1987 with three partners. Word of the new casual French dining spot quickly spread and he soon found himself turning customers away, so in 1991 he expanded to a larger space and re-christened it Talk Back Bistro .
Talk Back Bistro's menu, service and atmosphere are a reflection of Sugai's love of the French dining experience. Antique kitchen supplies hanging from the exposed rafters, heavy oak furniture, and French food posters give the space an authentically European feel. The servers, in crisp black-and-white uniforms, are knowledgeable and friendly. And the menu comprises traditional ingredients in unique, but uncomplicated combinations.
Sugai's other restaurants, Talk Back Bicoque and Galopin, offer similar fare and are also located in Kichijoji. All three are popular among couples, families, and larger groups, and can be reserved for weddings, Japanese End-of-Year parties, and other special events.
My companion and I arrive at Talk Back Bistro early on Sunday evening and are warmly greeted and led to our candlelit table by the good-natured staff. Our server brings us the English menu, which, aside from translations of their offerings, provides useful Japanese phrases such as sumimasen and gochisosama deshita, and a disclaimer stating that the servers "have basic English communication skills and will do their best to serve you in English."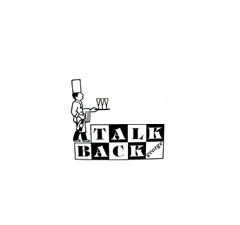 True to the menu's indication, our server's English is basic, but he obligingly translates the "Today's Suggestion" and drink menus, which are in Japanese only. We also find that the pasta dishes have not been included on the English menu, so we ask for an explanation of those dishes before making our final decision.
Our first dish to arrive is "Talk Back's famous mixed salad," which consists of fresh greens, cucumbers, and cherry tomatoes, topped with corn and scrambled eggs. The creamed corn-based dressing is so irresistible that, after devouring the salad, we sponge the plate dry with our complimentary French bread.
Soon after, our garlic bread arrives. Thick long slices of French bread, soaked in butter, and littered with roasted garlic and chopped walnuts bring this side dish to a new level of sophistication. It is clear after the first bite why this side dish is served in all three of Sugai's restaurants.
Next come the pork sausages, made fresh in their kitchen. They are served on a tangy bed of cabbage sauerkraut, which perfectly complements the mild Genovese sauce and basil-infused meat.
Craving seafood and pasta, but conscious of my companion's tomato allergy, we ask our server if it would be possible for the chef to prepare a seafood pasta in a cream sauce. He excuses himself to the kitchen and returns quickly with a "no problem." The result of our request is spaghetti in a light crab cream sauce - crab legs included. Topped with a variety of lightly steamed vegetables, this dish is a testament to the skill and creativity of the chef.
The ample portions of each dish leaving us satisfied but not overstuffed, we are nevertheless unable to resist the offering of Earl Grey crème brulee with framboise sorbet, that is read to us from the dessert menu. Complemented with a cinnamon-laced cappuccino, this dish is the perfect finale to our satisfying meal.
***** ***** ***** ***** *****
Talk Back Bistro (0422-21-0275) is located five minutes from Kichijoji station. They are open for lunch from 12:00-14:00 and for dinner from 17:00-23:00.