Shrimp Garden, Great Shrimps, Beer & Wine in Toranomon, near Hibiya Park
Review of Shrimp Garden
Restaurants from Kimihiko Araya Productions are also marked by certain attributes: menus that focus on high quality ingredients, stylishly simple decors and attentive but unobtrusive service.
Having said that, Araya-san has skilfully avoided repeating himself while opening some of Tokyo's finest (and most enjoyable) restaurants like Seamon, CILQ and Kazan.
So, it was with no small amount of anticipation that we made our way to Shrimp Garden, Araya-san's latest contribution to the Tokyo dining scene.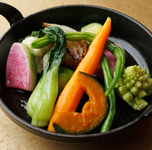 Located in the IINO Building in Kasumigaseki, Shrimp Garden occupies a prime spot with a small, greenery ringed terrace fronting a cozy indoor dining area. Counter seats offer terrace or kitchen views while tables are comfortable but not cramped - testament to Araya-san and his team's attention to detail.
My dining companion, a serious shrimp enthusiast, had already determined Dinner Course B as our menu for the evening so once comfortably seated, we started off with 2 glasses of Shrimp Garden's in-house beer, a crisp and light lager that proved a nice match to our first few dishes.
First up were perfectly crispy shrimp fritters paired with tender, juicy boiled shrimp. This was soon joined by an omar lobster carpaccio salad with mango dressing that was light, flavourful and refreshing on this warm Spring evening.
Our basket of deep fried potatoes served with a generous portion of shrimp salt arrived next, the seasoning adding a welcome complex flavour to this menu staple.
Restaurants in the Kimihiko Araya Productions Group are also well-known for their wine selections and Shrimp Garden is no exception, focusing their selections on fresh and elegant wines from California. We judged our dish of mussels steamed in wine to be the perfect opportunity to sample one or two from the carefully curated wine list.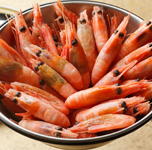 Thoroughly enjoying ourselves at this point we also realised how lucky we had been to secure two seats in the first place as the restaurant and terrace had both filled up even though it was the early evening.
Some customers, unable to secure a table, proved more enterprising and availed themselves of one of Shrimp Garden's more unique services by ordering dishes and beverages to go from the take out window near the entrance, presumably to enjoy in nearby Hibiya Park.
In the meantime, we were busy enjoying our Angel Prawn Ajillo. The New Caledonia sourced prawns and buttery soft daikon were superb and if our meal had ended there we would have gone home happy, already planning to come back again soon.
Instead, we were presented with ramen noodles in a rich, flavourful shrimp stock broth with 2 more large, succulent Angel shrimps for the finale of what had been a truly enjoyable dining experience. As we made our way back to Kasumigaseki station, my dining companion was already consulting her calendar for our return visit to Shrimp Garden.

***** ***** ***** ***** *****
Please note Shrimp Garden is a non-smoking restaurant (including the Terrace seats). Take Out is available.
Shrimp Garden is open everyday (03-3539-5090). Reservations are recommended.