Napule, Award-Winning Italian Pizzeria & Restaurant in Omotesando, Tokyo
Review of Napule
Napule exudes warmth like a Mediterranean day. Light flows from the restaurant's windowed front, flooding the narrow lane where it resides just around the corner from the Omotesando B1 Exit. As with any restaurant, though, it is the staff and clientele interacting during the course of a meal that creates true warmth and dining at Napule is a cheerful, convivial experience.
During our mid-week evening there, the house was full, indicating that the restaurant offered at least one of the following 1) great food 2) great value 3) warm Neapolitan hospitality. In the case of Napule, all three were true, which explained customer demographics similar to a Jon Bon Jovi concert. Young mothers with toddlers, career women, and Omotesando high-brand shoppers all gather here. As if that were not enough, Napule offers more: Paolo Ladu, a young guitarist with a voice as rich as any wine, roamed the tables, serenading.
A little too much? Come on, this is dining as a complete experience – you're almost in Naples.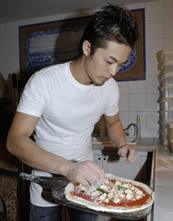 We started with beer -- cold and from a gentle pour, in a full-sized glass. We chose the complete dinner course for 7,000 yen with wine included. Though we upgraded to the sparkling wine, prosecco, I'm sure the house wine would have worthy of what was a truly fine meal.
The appetizer plate was a great opening overture -- dried tomato, light and fruity; marinated fish, plus fresh mozzarella for contrast. We moved onto the beef with onion, and then the Margherita, and Hisanori Yamamoto, the resident pizza chef came upstairs to talk with the guests. On the first floor a wide window showcases Yamamoto's skills at the brick oven. (It was these skills that carried him to the 2007 World Cup Pizza Championship last summer in Naples, traditionally the home of pizza.) The window is also something of a necessity – Yamamoto's pizza tossing entertains the customers that often gather outside. A gracious celebrity, Yamamoto worked the room shaking hands and chatting with admirers, of which there were many.
The seafood pasta had arrived -- prawns and shellfish cooked softly -- when I noticed our prosecco had become simply dry. We ordered San Giusto a Rentennano Chianti Classico 2004, a wine still in adolescence, but already showing its good nature and talented nurturing.
We asked for the wine to be decanted. Suddenly a team set up at our table to decant the Giusto by pouring it slowly through decanter neck as it was warmed over a small candle; a means of purifying an already good wine.
A little much? Come on.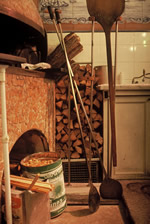 The timing of the Giusto was perfect – preparing us for the tataki maguro, surprisingly ample portions and with a mild taste, smoky but not overpowering -- a highlight in a shining evening which went well with the wine because its sweet fruit brought out the sweetness of the fish. Next was beef porcini. The Giusto and the beef seemed to know each other; they got along very well.
And then dessert plate -- chocolate cake with cream was a star among several offerings -- and an espresso.
An occasional glance around the room told the story of why this restaurant seemed to be always crowded: Getting a table was difficult, but leaving it once you had it was infinitely more difficult. As the night aged, the crowd became cheerful, but not rowdy. Red-cheeked and cheery, customers simply ordered more – more food, more wine.
The pace in Napule slackened to a jog and the head waiter, Michio Miura, came over to give my friend a chance to practice his Italian and Japanese. It was not meant to be. The Giusto was well gone and so was my friend. When both his Japanese and his Italian failed, Miura easily switched to English.
What else could Napule have done to make the evening better? Fly us to Italy? Now that would have been a little much.
***** ***** ***** ***** *****
5-6-24 Minami Aoyama, Minato-ku, Tokyo 107-0062
Tel. 03-3797-3790
Fax. 03-3797-3791
URL. http://www.bellavita.co.jp/napule/