GOSS, Champagne and Wine Bar in Ginza, Tokyo
Review of GOSS
Text by Vincent Ventimiglia
"It's a cozy little spot, just your type," my friend said to me after attending the opening of GOSS, Ginza's newest Champagne and Wine bar and one of four restaurants and bars created by Kimihiko Araya who has become one of the leading restaurateurs in Tokyo. In a way, the bar is a gallery for wine and a stimulating and open culture makes one feel like as if inside an Art Museum's courtyard where freedom reigns and you can enjoy your time however you would like.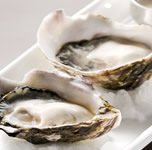 The experience begins when you make your approach to the door. The automatic door will open for you in a way that makes one ponder if machines have mastered the silky smooth art of opening and closing doors like that of the Geisha. You accept the invitation and go inside and are greeted courteously again, but this time by the entire staff in a discreet manner while the music and appearance holds nothing back in stating that this is a chic sanctuary. You find many relaxed, well-dressed people simply having a good time, smiling and talking freely in the central corridor where most of the action is. Feel free to join, head to the cash register to begin tasting wine, or make your way to one of the private counters in the corners where the location and dimmed lights will provide you with the privacy you may seek.
You choose to make one slow loop around the bar, gazing at the wines, taking it all in and then head to the register. Wine tasting is both easy and fun at this unique bar. GOSS has brought the first high-tech wine dispensing system from Italy to Ginza. The temperature-controlled case literally frames the wine bottles, allowing easy viewing of the artistic labels while nitrogen perfectly preserves the wines so that you can enjoy 24 high-class wines in one night (starting from 20 ml tasting portions). To enjoy the selection of wines, all you have to do is purchase a prepaid card (500 Yen) and charge it with the desired amount of money (from 1,000 Yen). This becomes your card and you can continue to charge it based on increments of 2,000 Yen or more. Next, simply insert the card into the dispenser's card slot, place one of the surrounding crystal tasting glasses under the tap of the wine you would like and hold the button for a couple of seconds and you have your wine!
Before I began my tasting this night, a figure emerged from a shadow and I realized it was the head chef from GOSS's sister restaurant Seamon, a true gentleman whom I have become friends with. He was off duty and voluntarily stopped by with his wife. Beer in hand, this connoisseur truly believes in the quality and value the restaurant group extends and explicitly states that the connoisseur's beer served at all locations is the best in Tokyo - never more than three days old and always served appropriately. I join him, am introduced to the staff and we form a new group to chat with our neighbors nearby. At this point I look around and recognize something spectacular. This little bar's large and amiable heart has set a tone that the patrons seem to instantly resonate with and are more than happy to dance along to. In fact, they seem to follow the rhythm so well that the aura they give off causes any preconception of a stylish Champagne and Wine bar in Ginza as being stiff to melt at the doorsteps. One scene in particular was as much surprising as it was pleasing to see. While most patrons were in their mid-30s or 40s, there were a couple of impeccably dressed Japanese women in their mid-60s with beaming smiles and drink in hand, conversing and laughing with the sommelier and others about wine and life. The stereotype of the Kimono clad, concerned Ginza walker is put flat on its face here.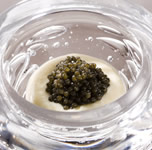 Next, my new companions and I began working our way from whites to reds, choosing to taste different wines of similar category in flights of two to have a little fun making comparisons. Upon surveying the wine selection that spans the globe (and includes many grape varieties) we concluded that some smart picking had been done. It seemed that great attention was given to origin and vintage to enrich the tasting experience. So for example, a person could choose the approach we decided on and taste 2 Pinot Noirs from different origins and each being from a good vintage in its respective area. However, what really impressed me is that they take an organic approach to selecting wine. Like an impressionist artist – they blind taste everything and if it does not satisfy at the price they would pay as a customer for it then it is not welcome (no matter the brand).
You will also find savory Tapas style dishes that marry perfectly with the different wines being offered. Russian Caviar to accompany Champagne, roasted lamb or Foie-Gras terrine for Red Burgundy (Pinot Noir), and large raisins and cheese to go with a dessert wine and or almost any other wine. The latter of which was very satisfying with Frescobaldi's Vin Santo, a Tuscan sweet wine made from dried grapes. Again, while all the wine is good, price varies by how good a wine is. So for those of you who wish to taste many high quality modest wines –this is the place to be. And for those of you who want to taste James Bond wine or an aged first-growth like Chateau Latour but don't want to buy the entire bottle, then this is the place to be!
Below is a list of the wines I tasted and I found them all to be very good at the price points they were at. Wines will most likely change regularly so as to continuously offer new tasting experiences. Salute!
Wines I tasted in order of the flights chosen:
2001 Chateau Larrivet Haut-Brion Blanc
2003 Chassagne Montrachet Henri Boillot 1er Cru – Les Chaumees Mersulet
2004 Berringer Carneros Chardonnay
2002 Domaine Robert Arnoux Vosne-Romanee
2004 Torii Mor Pinot Noir Deux Verres Reserve
2001 3 de Valandraud Grand Cru St. Emilion
2004 Donnafugata Mille e Una Notte
2002 Frescobaldi Castello di Pomino Vin Santo
***** ***** ***** ***** *****
GOSS (03-3562-8025) is located in the heart of Ginza.