Ginza Kazan, Specialty Seafood Restaurant in Ginza, Tokyo
Ginza Kazan, Specialty Seafood Restaurant in Ginza, Tokyo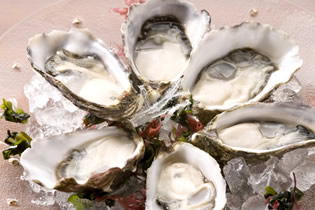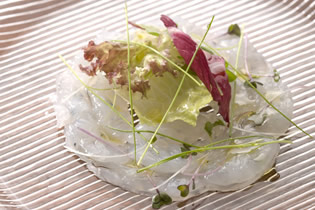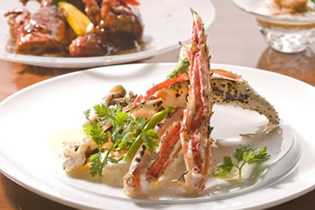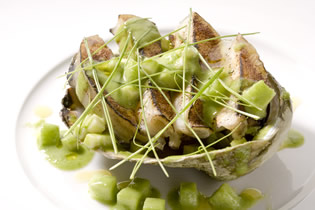 Dinner: Course A - ¥6,500
Starter: Choose one
- Cold Consomme Gelee Cocktail
- Blue Crab with Seasonal Vegetable Mousse
- Consomme Gelee of Sea Urchin on the shell (+¥800)
"Cats Eye" Oyster
Hors d'oeuvre
KAZAN's Deep Fried Angel Prawn
Millefeuille of Fresh Sea Urchin and Grilled Scallops
Today's Special Pasta
Today's Desserts
Coffee
Dinner: Course B - ¥8,800
Starter: Choose one
- Cold Consomme Gelee Cocktail
- Blue Crab with Seasonal Vegetable Mousse
- Consomme Gelee of Sea Urchin on the shell (+¥800)
"Cats Eye" Oyster
Today's Cold Pasta
Hors d'oeuvre
Today's Homard Lobster
Scottish Salmon Confit with Fresh Sea Urchin
Citron Flavored Grilled Abalone
Grilled Crab with Risotto
Today's Desserts
Coffee
A la Carte Menu
Cold Dishes:
Cold Consomme Gelee Cocktail ¥950
Today's Hors D'oeuvre Special ¥1,200
Hot Dishes:
KAZAN's Special Fried Angel Prawn ¥1,600
Millefeuille of Fresh Sea Urchin and Grilled Scallops ¥1,850

*All prices shown do not include tax.
Drinks & Healthy Desserts
Drinks
A large selection of Cocktails and Kazan's own special beer and wine. Kazan also offers a special lineup of wines that perfectly compliment seafood. With 56 different kinds of wine from 11 different countries, you will certainly find the right bottle.
Healthy Desserts
Today's Dessert ¥850
And More!!!