Ginza Kazan, Specialty Seafood Restaurant in Ginza, Tokyo
Ginza Kazan, Specialty Seafood Restaurant in Ginza, Tokyo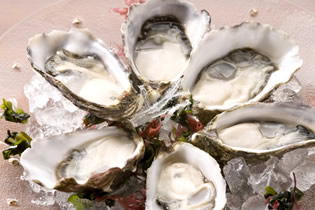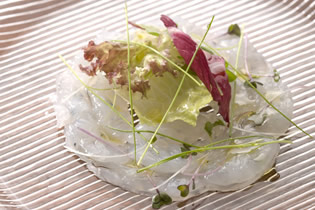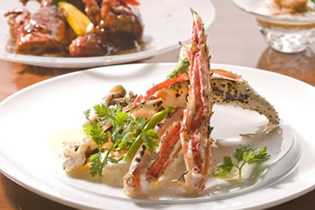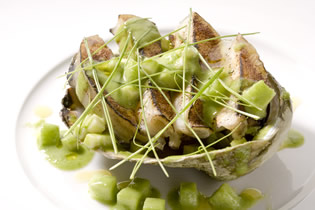 Dinner: Course A - ¥6,090
Starter: Choose one
- Cold Consomme Gelee Cocktail
- Sashimi Shrimp and Orange Caviar Cold Soup
- Consomme Gelee of Sea Urchin on the shell
Tasmanian"Cats Eye"Oysters
Two Kinds Hors d'oeuvre
KAZAN's Deep Fried Angel Prawn
Grilled Soft Neptune Whelk
Omar Shrimp and Leek Tart
Today's Special Pasta
Assorted Desserts
Coffee
Dinner: Course B - ¥8,190
Starter: Choose one
- Cold Consomme Gelee Cocktail
- Sashimi Shrimp and Orange Caviar Cold Soup
- Consomme Gelee of Sea Urchin on the shell
Tasmanian"Cats Eye"Oyster
Four Kinds Hors d'oeuvre
Lightly Roasted Bluefin Tuna
Grilled New Caledonian Angel Prawn
Citron Flavored Grilled Abalone
Grilled Crab with Seasonal Fruits
Today's Special Pasta
Assorted Desserts
Coffee
A la Carte Menu
Cold Dishes:
Sashimi Shrimp and Orange Cavier Cold Soup ¥997
Today's Hors D'oeuvre Special - Starting at ¥1,890
Hot Dishes:
Sauteed Thinly Sliced "Tender" Whelks ¥1,155
Fresh Steamed Mussels in Japanese Sake ¥1,312
KAZAN's Special Fried Angel Prawn ¥1,470
Millefeuille of Fresh Hokkaido Sea Urchin
and Grilled Scallops ¥1,732
Drinks & Healthy Desserts
Drinks
A large selection of Cocktails and Kazan's own special beer and wine. Kazan also offers a special lineup of wines that perfectly compliment seafood. With 56 different kinds of wine from 11 different countries, you will certainly find the right bottle.
Healthy Desserts
Ripened Tomato Compote ¥787
And More!!!