Side Door, Charcoal Grill & Steakhouse in Roppongi, Tokyo
Review of Side Door
Text by G.I. Chavez
The recipe for making a great restaurant begins with the chef, and the Side Door American Bar & Grill with Koji Yoshioka in command of the kitchen is well on its way to becoming just that.
Chef Yoshioka brings to Side Door an excellent foundation – 16 years at the Seiyo Ginza Hotel, the ultra swish hotel. Side Door's menu is what you would expect from someone of Yoshioka's pedigree – Western with an international French influence and a Japanese sense for getting the details just right.
By definition an American bar and grill must offer a great steak and Side Door does. You might be able to find a steak equal to Side Door's, but why go to the trouble when you know you won't find a better one, or a more convenient one?
Side Door is easily found on the street connecting Tokyo Midtown and Roppongi Hills. It resides in a building with several other bars, but don't worry if you take the wrong route, you will find your way soon enough to the bar at Side Door where a young and attentive, and largely bi-lingual staff waits.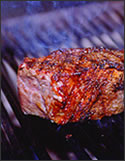 We started the evening with champagne at the bar, which has a nightclub feel, pink and blue lighting with chrome. After we took our table, Kenjiro Miyazaki, the general manager, who may speak better English than I, came over to provide us with a survey of the menu, proudly recommending the New York Sirloin. Grilled over bincho sumi, a white charcoal from Wakayama Prefecture in the Kinki region, the sirloin was the best of both worlds: lean, like an American steak, but tender like a Japanese one.
We started off the meal with an olive marinate to wake up the taste buds. Then we had a salad so fresh that it seemed to have arrived straight from the garden – which is about right, the vegetables were chosen from the Uenohara Herb Garden in Yamanashi. My friend sampled this salad and said, "This salad will add years to your life." Indeed, I felt younger already. The salad was accompanied by very warm bread and a high quality olive oil. And then houbou, an excellent tasting coastal fish from Shizouka, served with a spicy yuzu kosho sauce and topped with fresh mushrooms thinly sliced.
The sirloin arrived with asparagus spears, again from Yamanashi, mildly cooked and without even a hint of fibrousness in the stems. I was reminded of the wild asparagus I often gathered for dinners throughout one long ago summer in the San Luis Valley of Colorado – something I hadn't thought about in years.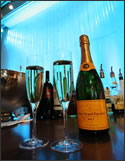 An array of sauces was offered with the steak and I chose a wine sauce that was refreshingly light and slightly tart. My friend's Iwate pork with vegetables was a fine choice as well, but this sirloin was something to savor.
We could enjoy this meal without ever thinking about wine, but that would have been missing much of the performance, like opera without the aria. We started with a Central California Sauvignon Blanc (you can judge a restaurant by its house wines) that worked well with the vegetables and fish. Then we moved to Cru Bourgeois Bordeaux, Château Tour du Haut-Moulin, 1999, which really spoke well for Side Door. With this red, the carrot cream soup was grand, but the onion soup, prepared in Yoshioka's own style, was memorable – Parmagiano cheese, accented with Gruyere, making it almost a fondue.
Lastly, the creme brulee, served in a wide bowl that allowed for an extremely thin caramelized layer, was a dessert almost as distinctive as the steak. Topped with fresh fruit, thinly sliced strawberries, perfect raspberries and blueberries, it was an excellent finale. Every great performance deserves a curtain call and Chef Yoshioka, modestly came out for his. Bravo.
***** ***** ***** ***** *****
B1, B2 Fusion Bldg., 7-13-8 Roppongi,
Minato-ku, Tokyo 106-0032
Tel. 03-5785-0573
Fax. 03-5785-0576