Seamon Ginza, Sushi Restaurant (Edomae) in Ginza, Tokyo
Review of Seamon Ginza
Text by Lizzie Murray
Located in the heart of bustling Ginza—famous for it's many expensive boutiques—Seamon offers an unforgettable fine-dining seafood experience. The interior of the restaurant is simply gorgeous, the calm atmosphere hypnotic. A long red counter spans the length of the restaurant, with a few small private tables set within the opposite wall. Waiting patiently behind the counter are three sushi chefs who are ready to offer you the experience of a lifetime. The simplicity of the interior is calming and soothing, so exquisite and stylish, just as it should be when you choose to dine in Ginza.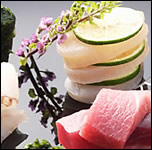 Kimihiko Araya is the innovative genius and seafood guru behind Seamon. It is the belief of Araya-San that produce of the sea is an irreplaceable culinary ingredient that should always be enjoyably eaten. I am happy to oblige.
The really great thing about Seamon is the value. If you're on a budget, then lunch is an excellent way to sample some of the freshest most decadent sushi and ocean delicacies that exist. There is always a range of set lunch courses on offer consisting of a selection of entrees and a selection of fresh sushi. The price of each set menu is dependent not only on the number of dishes served, but also on the type of seafood itself. Typical lunch courses range from Y2,940 to Y6,825, while dinner courses range from Y8,925 to Y14,700.
Selecting the recommended "Seamon Lunch Course" [Y4,725], I was able to sample four creative entrees including delicate fresh prawn sashimi. True to Araya-San's motto of ecology as well as a testament to his restaurant's sophistication when dealing with seafood, we were offered the shell of the prawn (often discarded), lightly grilled with a soft melted-butter flavour. The winning entree was a freshly shucked oyster from Tasmania, Australia, served with a luxuriously sweet, and slightly sour dressing. Freshly pickled cubes of ginger were provided to cleanse the palette between courses.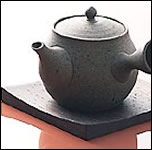 Next came nine different selections of nigiri sushi. The sushi is prepared as you are eating, true to fine-dining style; the speed of preparation and impeccable service was spot on. Sushi on offer included such gems as maguro (tuna), ika (squid), and chutoro (fatty-tuna) nigiri, as well as the queen bee herself otoro (the fattiest part of the tuna) delicately wrapped within a perfectly balanced roll of rice and seaweed. The best ikura (red caviar salmon roe) I have ever had the pleasure of tasting was presented in a small wooden bowl and accompanied by a perfect amount of sweet rice. This was so beautifully prepared that I felt bad eating it; however once I started I couldn't stop. The meal was followed with a bowl of miso soup and a warm green tea, as is the sushi dining custom.
The chefs at Seamon take great pride in delicately crafting each nigiri sushi to perfection. A slightly warm and slightly sweet bundle of rice, sits beneath a carefully prepared slither of the finest and freshest fish in the world. The seafood goes perfectly with the selection of reasonably priced Japanese sake, beers, some good wines and the usual non-alcoholic beverages.
A visit to Seamon is not just an opportunity to eat fabulous food but also a great opportunity to experience up-close, the ancient Japanese art of creating sushi. How the chef shapes the rice, slices the fish and garnishes like they were creating a piece of artwork. Sitting at the counter is highly recommended, while it doesn't give you the privacy of your own table, this is where the action takes place. You can see your dishes being prepared right in front of you. The chefs are friendly and are more than happy to guide you through the culinary experience, offering hints to achieve maximum satisfaction. And if you don't speak Japanese then the "Seamon Sushi Dictionary" is a must. This is an alphabetical listing in English and Japanese of over 100 different seafood delicacies.
Whether you are a resident of Japan or just passing through, there is no better place to experience seafood than in Tokyo. With one of the largest fish markets on the globe a short distance away, jam-packed with the best and freshest seafood produce in the world, you can understand why Japanese people are fussy about their fish. And when you taste seafood at Seamon it's easy to understand why.
***** ***** ***** ***** *****
Seamon is open everyday (03-5537-0010). Reservations are recommended.