P.C.A. Pub Cardinal Akasaka, International Pub and Restaurant in Akasaka, Tokyo
P.C.A. Pub Cardinal Akasaka, International Pub and Restaurant in Akasaka, Tokyo
P.C.A. is an evolution of Pub Cardinal Marunouchi and personifies the continuously innovative avenue that the Pub Cardinal brand takes while maintaining a tight focus on people. Here there is a convergence of many elements into one unifying place that satisfies all five senses.

This convergence is especially evident in light of the senses hearing and seeing which composes the context. Five different zones await patrons, whom can choose to spend time at the causal and lively standing bar, the dining area, the relaxing and calm lounge zone, one of the small but luxurious private rooms, or even on the open and stylish terrace. These efforts by the P.C.A.'s visual navigator are complimented by 2 talented DJ's, the sound navigators, who set a chic and relaxing tone based on the interaction between the people and space.

Talented bartenders, P.C.A.'s sommelier, and a chef who specializes in Spanish cuisine and another in Italian cuisine cater to your senses of taste and smell. The aromas of fresh baked pizzas and decanted wine picked to compliment the food as well as rosemary mojitas are tempting while the taste authentic.

The sense of feeling of sitting in plush chairs and texture of al dente paella and pastas or a smooth wine add another dimension that when combined with the other elements offers you a concept that just might become your third place.
Cardinal Productions:
Pub Cardinal (Ginza) | P.C.M. Pub Cardinal Marunouchi | P.C.A. Pub Cardinal Akasaka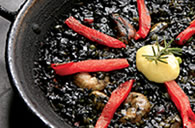 Paella with squid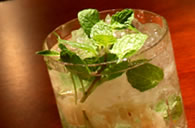 Espana Mojito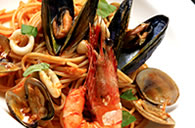 Pescatora – Seafood Spaghetti with tomato sauce
P.C.A. Pub Cardinal Akasaka Information
Address
Akasaka Biz Tower 1F, 5-3-1 Akasaka, Minato-ku, Tokyo 107-6301
Hours
11:00am - 4:00am (L.O.03:30 am) (Mon. to Sat.), 11:00am - 11:00pm (L.O.10:30pm) (Sundays & Holidays)
Capacity
Seating 77, Standing 100
Prices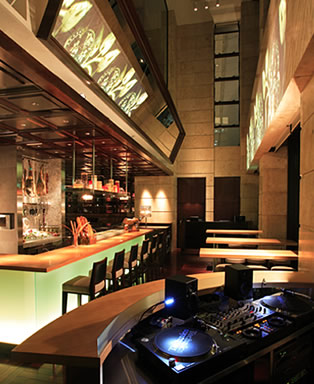 Chic interior of P.C.A. Pub Cardinal Akasaka