HEJ Kimono Workshop, Take home your brand new yukata (HCA014)
HEJ Kimono Workshop, Take home your brand new yukata (HCA014)
When people think of traditional Japanese clothing, images of kimonos first pop into their minds. Unfortunately, in today's modern world, opportunities to wear kimonos are becoming fewer and fewer. Consequently, many Japanese have begun wearing Yukata or summer kimonos.
In this program, participants will visit a Kimono workshop where they will learn how Kimono and Yukata are made. Participants will learn the intricate process of kimono dyeing and then each will be able to dye a small handkerchief themself.
Following this, participants will be dressed in Yukata and have the chance to take lots of photos and meander through the streets of traditional Nihombashi. The best part is, everyone can take home their brand new Yukata!
Schedule
Kimono workshop → Tea time → Wear yukata → Visit local temple → Change clothing → Visit local stores → Depart from Ningyocho Station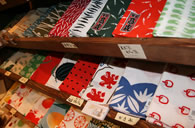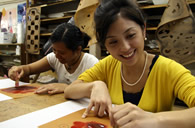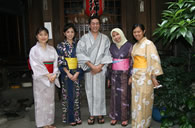 HEJ Kimono Workshop Information
Address
HIS Experience Japan Co., LTD., Sumitomo Fudosan Shinjuku OAK Tower 26F, 6-8-1, Nishi-shinjuku, Shinjuku-ku, Tokyo, 163-6026, Japan
Hours
13:00-16:00
Wednesdays and Fridays (Except for 2008 Dec. 31, 2009 Jan. 2,16, Feb. 11,13, Mar. 20, Apr. 10,29, May 6, Aug. 14,26, Sep. 23, Dec. 23,30)